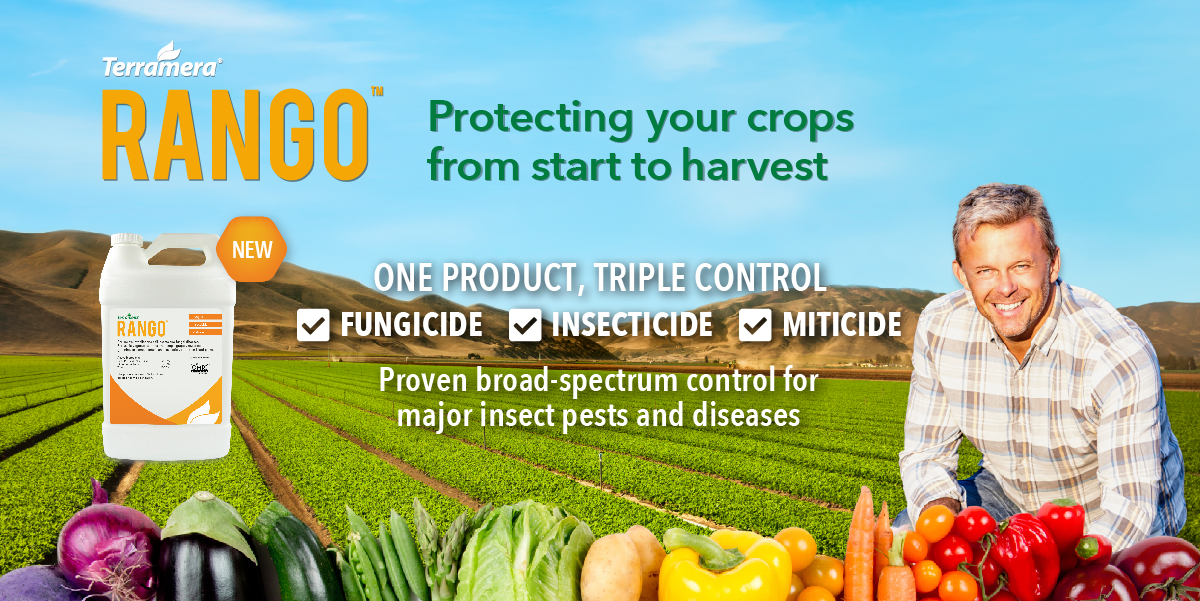 Broad-spectrum Management of Major Diseases and Insects
RANGO is a plant-derived broad-spectrum biopesticide for the management of insects and diseases in organic and conventional operations.


RANGO is a high quality, 70% cold-pressed neem oil containing over 150 active limonoids including azadirachtin. Limonoids have activity on a variety of different organisms including insects, mites and diseases.


RANGO is OMRI-Listed for use in organic agriculture.

RANGO

uses no synthetic solvents and preserves the integrity of the active ingredient through t

he cold-pressed process in the formulatio

n.
RANGO

:

an excellent rotational and tank mixing partner in controlling diseases and insects, while also helping to break resistance.
RANGO

controls major diseases and insects such as powdery mildew, scab and pear psylla.

RANGO

: the most effective organic treatment for controlling botrytis on strawberries for 2 years in a row.
(Cal Poly 2019,2020)
What Growers say about RANGO?
"In the tomato field the results were immediate! Only one application was necessary to give the crop enough vigor to overcome flea beetle pressure. RANGO was unharmful to my equipment unlike most other neem based inputs. It was also pleasant to smell and be around. I will definitely continue to use it as an effective tool in the tool belt!" Andy O'Brien - Surfside Farms
"We used the RANGO this May in brassica crops during peak cabbage root maggot flight. The product worked well in controlling flies as well as cleaning up some minor early aphids. I would definitely be interested in using RANGO again as part of our pest control program." Zack Wailand - Dharma Ridge Farm
"Only RANGO was applied on my organic bing cherries for mildew and I was pleased with the results. I plan to use RANGO again this year on a broader level." Mike Miller - Goosetail Orchard
RANGO has proved to be a very useful and effective tank mix and a rotational option for pest and disease control at our organic blueberry farm." Harley used1.5% v/v of RANGO in Stanley Blueberries to control mildew and SWD. Harley Soltes - Bow Hill Blueberries
RANGO: All You need in One Jug.
Contact us through the form below or call: call us at 1.360.988.3850
CONTACT US: For more information you can also call us at 360.988.3850 or email agriculture@terramera.com